One of the biggest things we hear from our clients is they want variety in their meal plan. We don't blame them! Chicken for every meal can definitely get boring and the whole point of creating a sustainable healthy lifestyle is actually being able to ENJOY your food.
A challenge that many folks face when trying to shake it up with their protein choices is picking flavorful protein without a ton of fat. Protein is a critical part of overall health (things like building muscle and keeping bones strong) as well as achieving weight-loss goals. That's why we wanted to bring you an awesome fried fish recipe that's low in fat to curb those cravings! This recipe is great for summer when you're craving that fish and chips plate🐟🐟🐟. All you need is an air fryer and a few ingredients and you're good to go!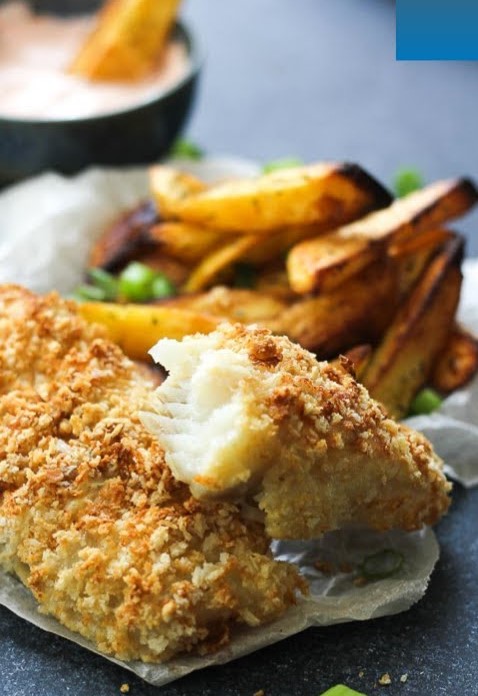 Ingredients:
2 lbs cod 🐟
Potato Flour (enough to coat) 🥔
Seasonings: (sea salt, garlic, basil, thyme, rosemary, black pepper, lavender, nutmeg is what we used, but feel free to pick you're own!)
Olive oil-non stick spray
Sweet potatoes 🥔🥔
Directions:
Weigh out your potato starch to see how much you have to begin with (you'll be weighing it again when you're finished coating the fish to see how much you actually used)
Season the fish according to your taste and toss in potato starch
Spray the basket in the air fryer and place a layer of fish in the fryer
Spray the top of the fish with your non-stick olive oil spray--this will give it great color and some crisp!
Air fry fish for 10 minutes
While the fish is frying, wash and cut up your sweet potatoes into wedges. You can use normal potatoes as well, but sweet potatoes just have a little bit more nutrients. If you have two air fryers you can cook them at the same time, but if you only have one just use it when you're done with your fish!
Season your sweet potatoes to you're taste. We think sweet potatoes are good by themselves, but feel free to add salt, cinnamon, whatever your heart desires!
Place the sweet potatoes in a single layer in the fryer and spray with olive oil spray. Cook until crispy (about 15-20 minutes)
Portion and enjoy!
Pro tips: if you're tracking your food, check out this video on how to add recipes to My Fitness Pal. When you are portioning the sweet potatoes after they're cooked make sure you pick "cooked" sweet potato.
Watch the video for bonus content (it's hamburger time 🍔🍔🍔).