Have you ever struggled getting in "starchy carbs" without od-ing on your carbs? If you like sweet potatoes or pumpkin, you will love butternut squash!
Today, we want to talk about a quick and easy way to cook butternut squash so that it is tender and delicious...a perfect side dish to almost any meal, breakfast, lunch or dinner.
Some fun facts about butternut squash:
There's pretty much equal carbs in both cooked and raw butternut squash so you can weigh it either way when incorporating it into your meal plan!
Before cutting a butternut squash up you can store it on your counter or in your pantry for up to a month!
After cutting and before cooking, you can store it for 3-5 days...perfect for meal prep if you want to cook it fresh during the week!
You can freeze butternut squash after it has been peeled. Simply cube or slice the raw squash and place in an air-tight freezer bag for up to a year. You can also freeze cooked squash!
Butternut squash can be roasted, baked, pureed, or sauteed. You can also mash or steam it and add it to soups, stews, and chili, or stuff squash with whole grains or legumes.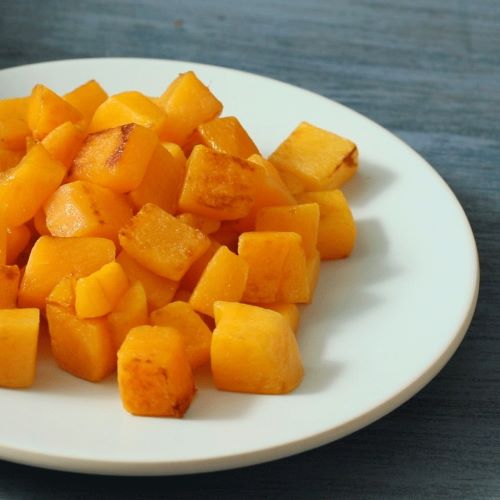 Directions:
Cut off the ends of your squash and peel using either a potato peeler or a knife like you would with an apple
Cut into cubes
Heat up a pan with some non-stick olive oil spray. Once heated add the squash.
Saute until squash is tender, about 5-10 minutes depending on preference.
Season as desired.
Mix with other veggies if desired.
Eat & Enjoy!
Another great option is roasting it in the oven!
Pro Tip: watch the video for extras (like how to roast other veggies to compliment your squash).