Thanksgiving has now passed, but if you're like most of us you definitely have some leftovers lying around. A lot of people wonder how to convert those leftovers into healthy meals so that they don't waste, but also aren't continuing to fall off the healthy habit wagon. This soup is a creamy and delicious way to use up that extra turkey (instead of smothering it with gravy and pairing it with mashed potatoes), and goes great with a crisp romaine salad!
Ingredients:
2 cups sliced mushrooms, (about 4 ounces)
¾ cup chopped celery
¾ cup chopped carrots
¼ cup chopped shallots
¼ cup all-purpose flour
¼ teaspoon salt

¼ teaspoon freshly ground pepper
4 cups reduced-sodium chicken broth
1 cup quick-cooking or instant wild rice, (see Ingredient Note)
3 cups shredded cooked chicken, or turkey (12 ounces)
½ cup reduced-fat sour cream
2 tablespoons chopped fresh parsley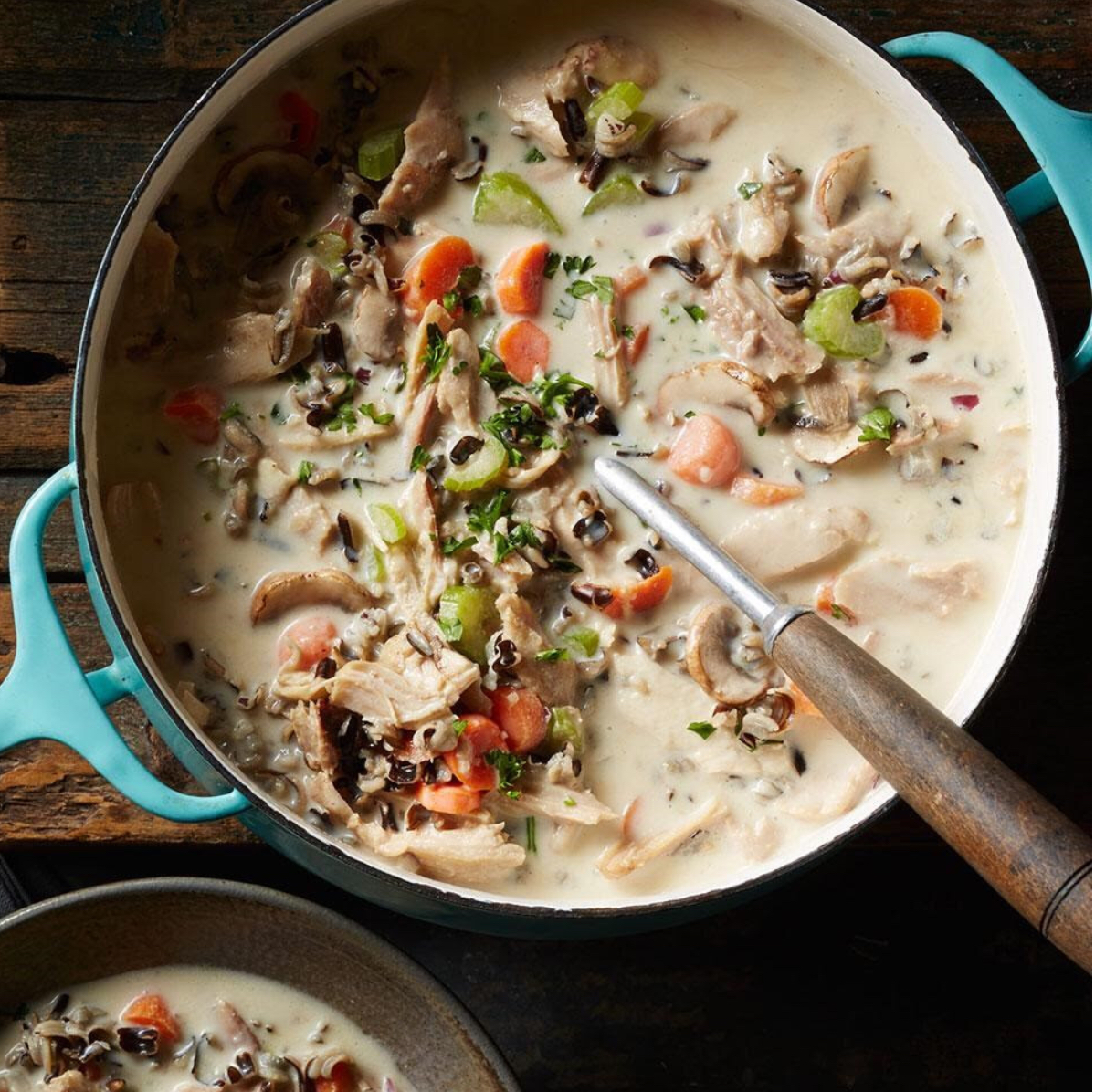 Directions:
Heat oil in a large saucepan over medium heat. Add mushrooms, celery, carrots and shallots and cook, stirring, until softened, about 5 minutes. Add flour, salt and pepper and cook, stirring, for 2 minutes more.
Add broth and bring to a boil, scraping up any browned bits. Add rice and reduce heat to a simmer. Cover and cook until the rice is tender, 5 to 7 minutes. Stir in turkey (or chicken), sour cream and parsley and cook until heated through, about 2 minutes more.
Recipe Notes
Quick-cooking or instant wild rice has been parboiled to reduce the cooking time. Conventional wild rice takes 40 to 50 minutes to cook. Be sure to check the cooking directions when selecting your rice—some brands labeled "quick" take about 30 minutes to cook. If you can't find the quick-cooking variety, just add cooked conventional wild rice along with the turkey at the end of Step 2.