Like most of you out there, we care what goes into our bodies. That's why we're very picky when it comes to what supplements we sell at our fitness studios and recommend to our clients. We've done a lot of research, and what we've found is Nutrilite products are the absolute highest quality vitamins out there for a few different reasons.
Nutrilite is actually the very first multi-vitamin company. Period.
Founder Carl F. Rehnborg developed the multi-vitamin in 1934 after his time in China between the end of 1915 and 1927. While working in China as a salesperson for Colgate, he observed that many people he came across showed terrible signs of malnutrition. He began to study the relationship between health and nutrition and realized that there was a huge connection between plant-based substances and health, which prompted him to study which supplements were most necessary for optimal health. Eventually he created his own supplements, later renaming his company to Nutrilite.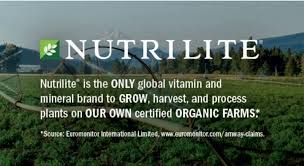 Some of the top reasons we love Nutrilite so much:
Nutrilite is the only global vitamin and mineral brand to grow, harvest, and process plants on certified organic farms (that Nutrilite actually owns).
Nutrilite controls every step of the process, from seed to supplement, ensuring that every supplement is safe and effective.
All Nutrilite products have a 180 day 100% customer Satisfaction Guarantee, meaning if you don't like it you have a 180 day window to get a full refund.
We also really care about supplements that actually have what they say they have, and actually do what they say they do. The challenge with a lot of vitamins out there is that they aren't regulated. And there are some big name companies out there with some pretty large lawsuits going on because what they claimed to be in their supplements actually weren't.
Nutrilite does things differently and cares just as much about what goes into their products as we do:
Nutrilite has in-house validated testing using phytochemical fingerprinting to identify the beneficial substances in each ingredient.
They farm specifically at peak ripeness to ensure potency and accuracy
Every test they do and every result they get is documented.
Independent testing labs are contracted to analyze selected supplements to verify label claims and assure they are free of pesticides and banned substances.
Nutrilite has a Scientific Advisory Board. Top independent researches in nutrition and heath advise on the overall approach to nutrition products and the design of clinical research that supports safety and efficacy.
Nutrilite actually cares so much about what goes in supplements that they work with industry groups to help urge high quality standards for the entire supplement industry.
These are just some of the reasons we love Nutrilite so much, of course one of the biggest reasons being...the products just plain work!
Swing by CNU Fit to check out some of the products we stock, and feel free to message us at admin@cnufit.com for any questions or recommendations.